All the way back in January, Alyson Stoner used her official website to confirm her role as Opal in the Legend of Korra. There was no word on which season her character would debut in, so it was assumed that Opal would appear in either Book 2 or Book 3. Now that Book 2 is all wrapped, we can confirm that Opal did not make an appearance during the season. This gives Alyson Stoner's character more of a chance to appear in Book 3.
I did some research on 'Opal' and I found out that it's technically a type of mineraloid. I won't bore you with all the details, but the one thing we can take from the meaning of this name is that it has something to do with rock or earth. More specifically, Opal is a type of gemstone or jewel. Since Book 3 will most likely be a season dominated by the Earth Kingdom, it would only make sense that a character by the name of Opal would make an appearance.
But what type of role would Opal play in the new season? There's no way to know for sure, but I think the fact that Opal is a type of jewel tips off one possibility.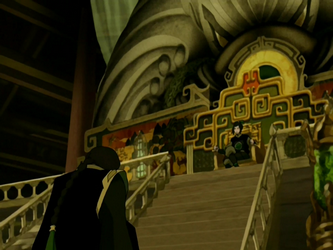 One of the reasons why Book 3 could be an Earth Kingdom dominated season is because Bryan Konietzko has already discussed the idea of an Earth Queen in the Avatar World. There are many other factors that point to this expectation as well, but today I want to focus on the Earth Queen exclusively.
Is it possible that Opal could be the Earth Queen?
The first word that comes to mind when I think 'Queen' is royalty. And wouldn't the name Opal (a type of jewel) fit perfectly with someone who is considered royalty?
It's just something to think about, I suppose. But the way I see it, everything seems to fit. If you look back at past characters, many of their names are words from other languages that match their personality or fisique. Just to give a few examples, I've compiled a list:
'Yue' means moon in Mandarin Chinese.
'Aang' means peaceful, soaring.
'Gyatso' means ocean of wisdom in Tibet.
'Bumi' means earth in Sanskrit.
The list goes on and on; in fact, almost every major character has a name filled with some sort of meaning. It seems to be the Mike-and-Bryan-way. Why should Opal be any different?
What are your thoughts?
Pre-order a DVD copy of Book 2: Spirits: