Yesterday afternoon, Grey DeLisle (voice of The Dark Spirit and an unknown Book 3 character) used Twitter to rejuvenate a fan base that has been left in the dark for almost a year now. The tweet, full of puns all referring to The Legend of Korra, was a direct message to the fan base explaining that a "treat" should be expected this Summer. Did I mention that the tweet was deleted? I love it when executives get in the way with voice actors/actresses tweeting. All it does is confirm that we've been exposed to some high level news. You can see a screen shot of the tweet at the bottom of the post.
By the time this news broke yesterday afternoon, I had already posted about the Book 3 storyboard art depicting Asami and I was just about on my way out the door to enjoy my Friday afternoon/night. When I got home at around midnight, I checked my phone to find numerous e-mails/tweets essentially telling me that Book 2 would air in the Summer.
And what was the basis of this "confirmation?" The tweet, of course! I wrote a post earlier talking about how The Legend of Korra fandom will pretty much take any release date they may hear about and run with it – no matter how unrealistic it may seem. Though a Summer release date is realistic, this is probably just another one of those cases.
Let me bring all of you down to Earth.
Before you get the assumption that I am completely discrediting the possibility of a Summer release date, understand that I am not. Grey's tweet could very well mean that Book 2 will release this Summer, but to assume that this tweet confirms a Summer release date is a little silly.
It's important to look at all possibilities, just as we did with the Track Teams' cryptic tweet about Book 2 news.
When I think "treat", I think trailer. And when I think about the Summer in terms of The Legend of Korra, I think about Comic-Con. I think it's fair to assume that most of the fandom is expecting some sort of trailer during Comic-Con. So could a Book 2 trailer be the "treat" that Grey is referring to?
Definitely.
But is that confirmed?
No.
Interpreting this tweet is really a matter of opinion – there is no right or wrong interpretation. You could interpret it as Book 2 premiering during the Summer or you could interpret it as a possibility that we'll receive a Book 2 trailer over the Summer.
But understand that this tweet confirms nothing; it just opens up the realm of possibilities for this Summer, which is looking to be a very exciting time for Legend of Korra fans.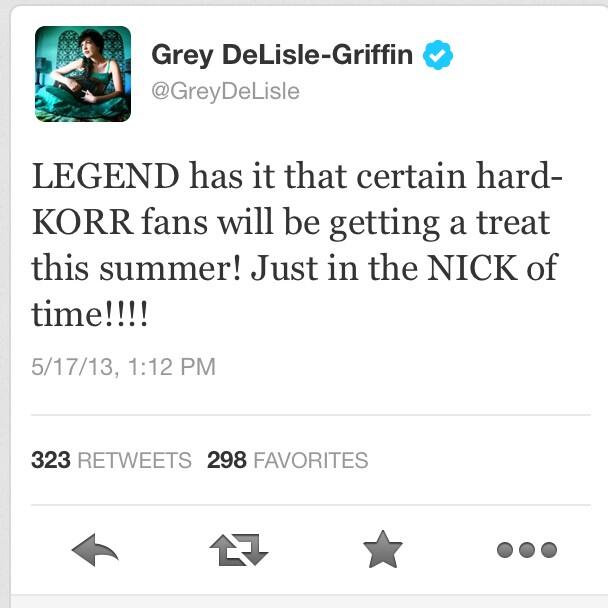 Subscribe to Recieve the Latest 'Korra' News