Earlier today, a Book 3-based image of Tenzin speaking into a microphone surfaced. Along with that was a Spanish-based Book 3 script screenshot that depicts dialogue between Korra, Bolin and Tenzin. The script is a bit cut off, however the general idea of the conversation was made out with the use of a translator. I never thought blowing off Spanish class would come back to bite me, but it did. Fortunately for me, the internet has some handy tools to help with situations like these.
The picture depicting Tenzin is a bit generic, so it's tough to make out any possible plot details. It looks like Tenzin is speaking in some sort of coliseum due to the visible high-riser seating in the background. It could be the Pro Bending arena, but it's tough to tell for sure.
The full picture of Tenzin can be seen below: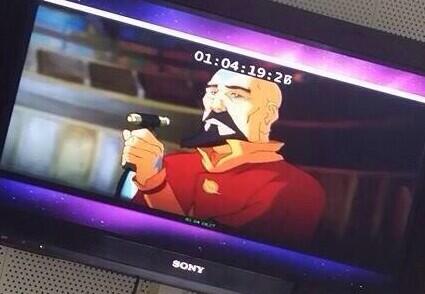 Aside from the picture of Tenzin, we also received a screenshot of Book 3's script. On this particular page, a conversation between Tenzin, Bolin and Korra is ongoing.
Unless you can read Spanish, you'll likely need a translation of the text which can be seen below:
For real?
Bolin: She is so wonderful! And cute,
and […]
smells like flowers.. sorry, I […]
Korra: How is the training going?
Tenzin: Not so well, I'm afraid […]
the difficult task of being […]
Air.
Korra: You need to take […]
the kids help you […]
commander […]
The conversation appears to begin with Bolin being Bolin: going off on a tangent that is irrelevant to the conversation. Korra then asks Tenzin how training is going. One can assume that Tenzin is likely training a bender in the area of airbending. Regardless of who it is (Meelo or Ikki?), training is not going well… it's probably Meelo.
What are your thoughts on the image and script dialogue?
Subscribe to Recieve the Latest 'Korra' News